Monday
,
October
24
,
2016
,
6:00 PM
            Come!
                                Celebrate!
The wonderful things the Lord has done for us!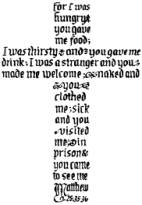 Saturday, Oct. 29, 2016
St. Joan of Arc Church (in the ARC)
570 Lincoln St.
Worcester, MA  01605

6 p.m. :  Mass of Celebration, Thanksgiving, and Induction
Followed by Buffet of Hors d'oeuvres (hot and cold), and desserts
 
Induction of
Harry Duchesne our new Assistant Director
 
Donation
$25.00 per person
$5.00 Under 16
 

                                                                                             
R.S.V.P. before Oct. 21, 2016
 
By email at mailbox@urbanmissionaries.com, or telephone at 508-831-7455.
Or send check to: Urban Missionaries 242 Canterbury St. Worcester, MA  01603
Please tell us the number in your party, if there are food allergies,.
 
You can pre-pay at www.urbanmissionaries.com, select the donate button and use your credit card or PayPal or pay at the door.
Please note Celebration in the purpose section and if there are food allergies. 
Urban Missionaries
of Our Lady of Hope



. . . just helping since 1979




Our Lady of Hope Center
242 Canterbury Street
Worcester MA 01603
Formerly Refugee Apostolate, Inc.
e-mail mailbox@urbanmissionaries.com
On the web at www.urbanmissionaries.com
Tel 508-831-7455
 

We are counting on you! Thank you once again for being there for us,

Thank you for your continued support of our works of charity.
Walter F. and Kathy M. Doyle, Co-directors